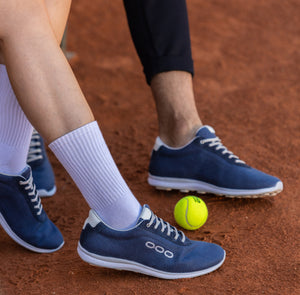 Outfitter of the ball boys / ball girls and referees
Swiss Open Gstaad carries the water-line models
We are proud that GNL Footwear is the official shoe supplier for this prestigious tennis tournament. All ball kids, umpires and officials wear GNL shoes during the tournament so they can regenerate during and after the long days.
Now you too can benefit from the unique patented sole technology with the regenerating GNL effect.


GLIDE

When you step on it, the sole gently absorbs the impact. The lugs of the sole are 360° adaptive. Thus, forces are perfectly absorbed not only vertically but also horizontally without suppressing the natural reaction of your foot when stepping. You'll notice from the first time you wear GNL shoes that you glide smoothly into every step.

LOCK
The sole remains hard at impact and allows you perfect power transmission. When you step, the lugs sink into the sole. This gives you a stable and firm push off the ground and you don't lose any energy .