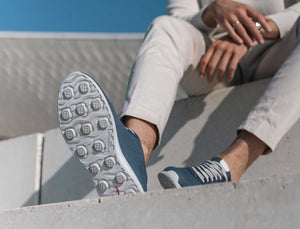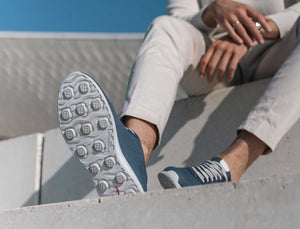 We have two waterproof models. These are the Hiker Stracciatella and the Hiker Stealth Black. Both models have a 360° Tex membrane for maximum breathability and dryness.

The other models (Water-line, Leather Shoes and George) do not have this membrane, which means that the shoes are not waterproof, but water repellent. If the shoe is additionally impregnated, this increases the water-repellent effect.


Once the outer soles are worn down, we can have the outer surface replaced in our shoe workshop. See RE-SOLE YOUR GNLS
Our shoes are compatible with orthopaedic insoles. We recommend that you make sure that the insoles are not too thick or high, otherwise you will stand too high in the heel cap and will no longer have proper support.
All models that you can find under "Reduced models" will no longer be produced in the future.
Some GNL laces are elastic and can stretch up to 50%. That means you can save yourself the annoying lacing, and after initially adjusting the laces, you can slip in and out of your shoe with ease.

To adjust the elastic laces, pull them as tightly as needed. Then make new knots and cut the rest off. You're good to go!
Our shoes usually come true to size. If you are still unsure about which shoe size to choose, we recommend you to use the size chart on our website.
GNL shoes are neither particularly wide nor narrow cut. The great thing about GNL is that it adapts to your foot thanks to its soft and flexible materials. If you have very wide feet, the shoes will soon feel like socks after a little wearing in. If you have very narrow feet, the fit can be adjusted very well via the laces.
The general rule is that you should go by the larger foot. That is, if one is 41 and the other 42, we recommend size 42.
Due to the size of our company, we are not yet able to offer shoes in half sizes. However, we are committed to making this possible in the future!
Leather and vegan leather shoes should be waterproofed at least twice before you wear them for the first time. Leather and vegan leather reacts well to good care and thus lasts a very long time. Therefore, the shoes should be regularly treated with care products and impregnation. This way they look beautiful and repel dirt and water.
For cleaning, we recommend water and a damp cloth to wipe away dirt, or some dish soap and water together with a fine brush especially for leather and suede. Make sure you wash off the soap and let the shoes air dry. Finally, we recommend a shoe spray to protect leather and synthetic materials.
The textile insoles of the leather shoes can be washed in the washing machine at a maximum of 30° Celsius and should be air dried.
Textile shoes should be impregnated with a product suitable for textile shoes from the first wearing and at regular intervals.
If they are dirty, we recommend using a fine brush together with some detergent and water to remove the dirt. We strongly advise against putting your shoes in the washing machine, as this can damage the material and weaken the adhesive. Always let your shoes air dry after cleaning and then use a protective spray to protect them from dirt and water.
The textile insoles are machine washable at a maximum of 30° Celsius and should be air dried.
Yes, the textile insoles are machine washable at a maximum of 30° Celsius and should be air dried.
GNL shoes should not be washed in the washing machine. Washing them in the washing machine in combination with the temperature can cause the glue of the sole to dissolve.
Every GNL shoe is manufactured in a small mountain village in Bulgaria. With the purchase of our products, you support a small European family company.
Our leather comes from Italy. We only use leather left over as waste from meat production for our shoes. When manufacturing the shoes, we take great care to use as much leather as possible to waste as little material as possible.
Our stock levels are updated in real time. In other words, what is displayed online corresponds to what is available at the moment.
If your size is out of stock, you can enter your email address on the product page and we will notify you when the desired product is available again.
Unfortunately, if no pre-order is offered for this product, we cannot accept individual pre-orders or reservations.
We have a network of retailers and a showroom in Zurich. You can find all addresses and info about our locations here.