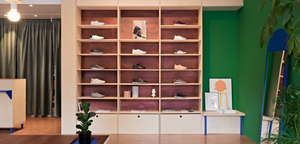 Give us a call
You can reach us by phone at the following times: Thursday from 15:00 to 18:00, Friday from 12:00 to 17:00 and Saturday from 10:00 to 14:00. When you call us, you are calling our showroom. Please be aware that we are a small team and may be servicing one customer at a time. We will do our best to call you back as soon as possible if that is the case.
+41 44 482 00 17
Send us an email or chat with us online
Send us an email and we will reply within 24 hours on business days. If you have a question about our products, a delivery or just a general inquiry, please email us using the contact form below.
We also have a chat feature available Monday through Friday from 10:00 to 18:00 and Saturdays from 10:00 to 14:00. If you leave us a message and we're not there, you'll get an email reply. We run the chat ourselves and you will always chat with one of us, as we only have certain basic order status questions automated.
If you need to exchange or return something, please follow the instructions here.
For warranty claims, please click here.